Wide field of vision, invincible; dual QHD display; AMD Radeon FreeSync ™ 2 technology.
Features
Broad vision, invincible
Dual QHD display
CRG9's 5120 x 1440 dual QHD resolution provides an ultra-wide picture ratio, allowing you to appreciate the fine details of the picture. The screen space is equal to two 27-inch QHD monitors juxtaposed, and the 49-inch curved monitor brings a wider field of view and wins consecutive games.
Super wide surface
CRG9 has an ultra-wide 32: 9 ratio, and the curved screen provides a wider field of view, allowing you to immerse yourself in the game action of the screen.
HDR1000 and QLED
The brightness of HDR1000 is up to 1000 nits, which can support true high dynamic range (HDR content). Samsung QLED technology provides a 95% DCI-P3 color gamut, making the picture colors purer, brighter and more realistic than ever.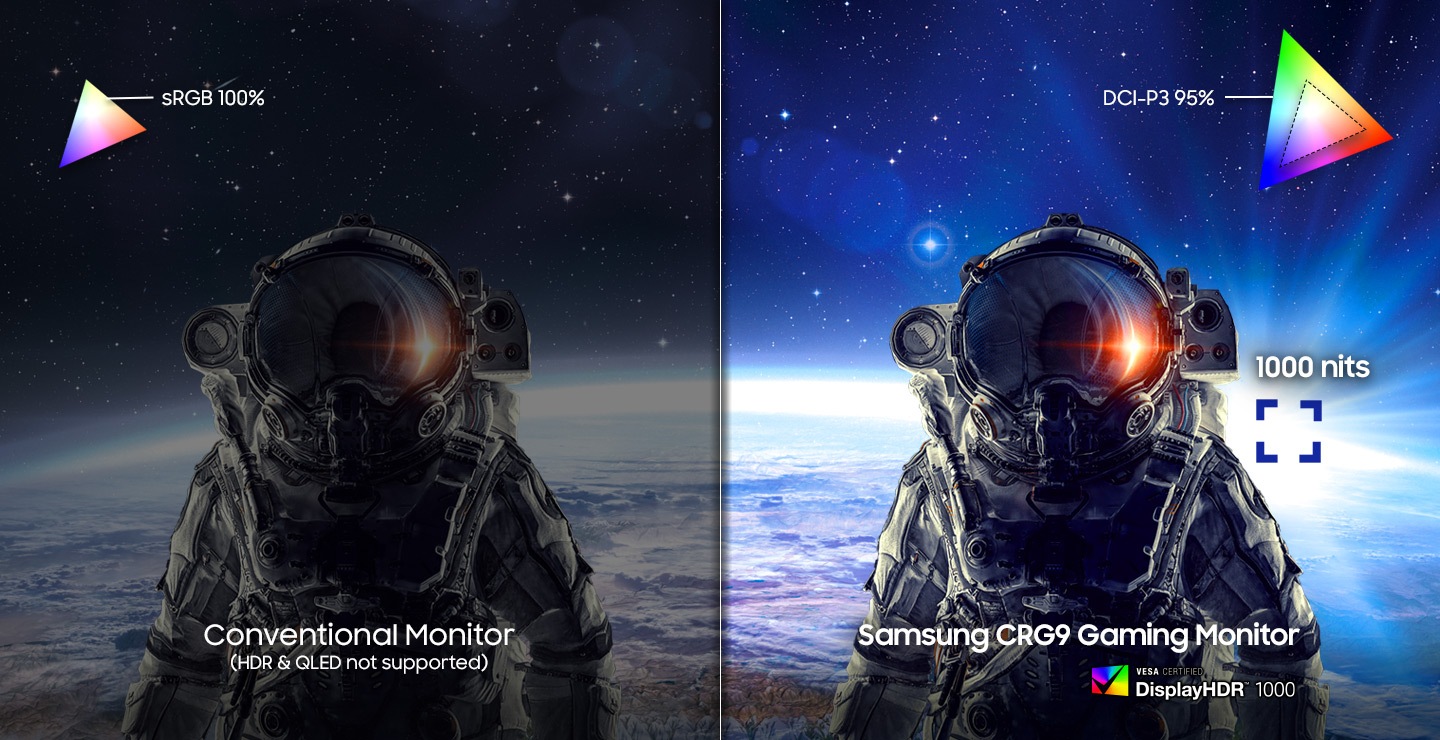 AMD Radeon FreeSync ™ 2 technology
Combined with the unique adaptive synchronization technology of AMD Radeon FreeSync ™ 2 HDR technology to reduce picture interruption and tearing, FreeSync 2's exclusive features include support for HDR content display, reduced input delay and low frame rate compensation (LFC), easy to achieve Smooth gaming experience.
Screen update rate up to 120Hz
The fast 120Hz screen update rate minimizes image delay and dynamic afterimage problems, making the game experience smoother. The 60Hz screen update rate setting suitable for users allows you to quickly display through the screen to adjust the best effect without entering the display setting menu.
* When using 120Hz refresh rate, the color support is limited to 16.7M.
Fight for victory
A display optimized for gaming, designed to let you win. Open the game mode, you can immediately adjust the contrast and color settings according to various game types, switch to low input delay mode, get a faster response time, and use the cross cursor on the screen to virtually aim to more accurately target the enemy.
Picture side by side function
Through the side-by-side function of the screen, you can connect and watch the input source without compromising the original picture quality. The side-by-side function of the screen brings a convenient PC gaming experience. For example, you can invest in your favorite games while watching movies and searching online.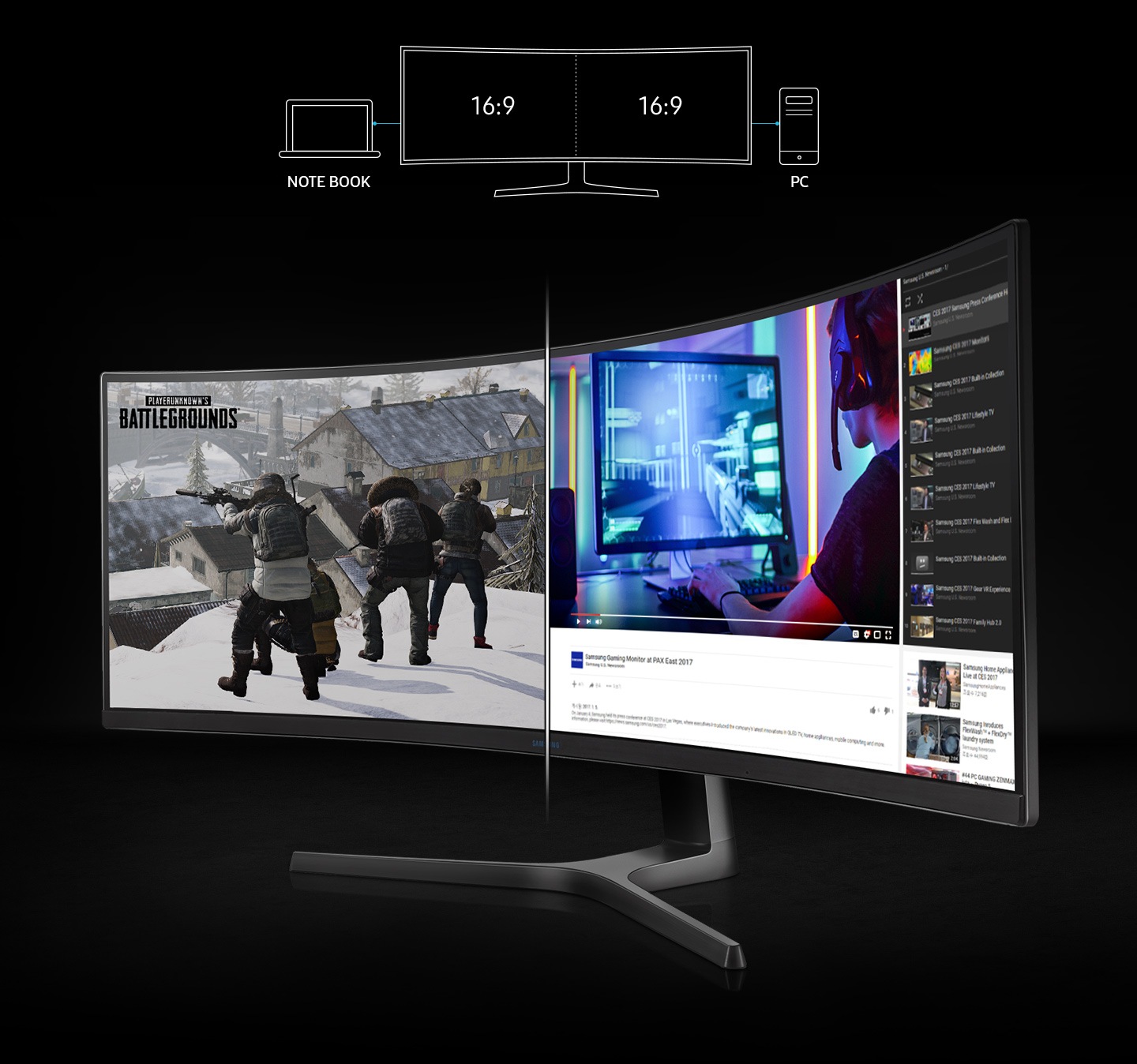 Intimate eye protection
The eye protection mode reduces the release of blue light that causes eye fatigue, and the non-flashing technology suppresses the flickering of the screen, which allows you to play for a longer time and reduce eye fatigue.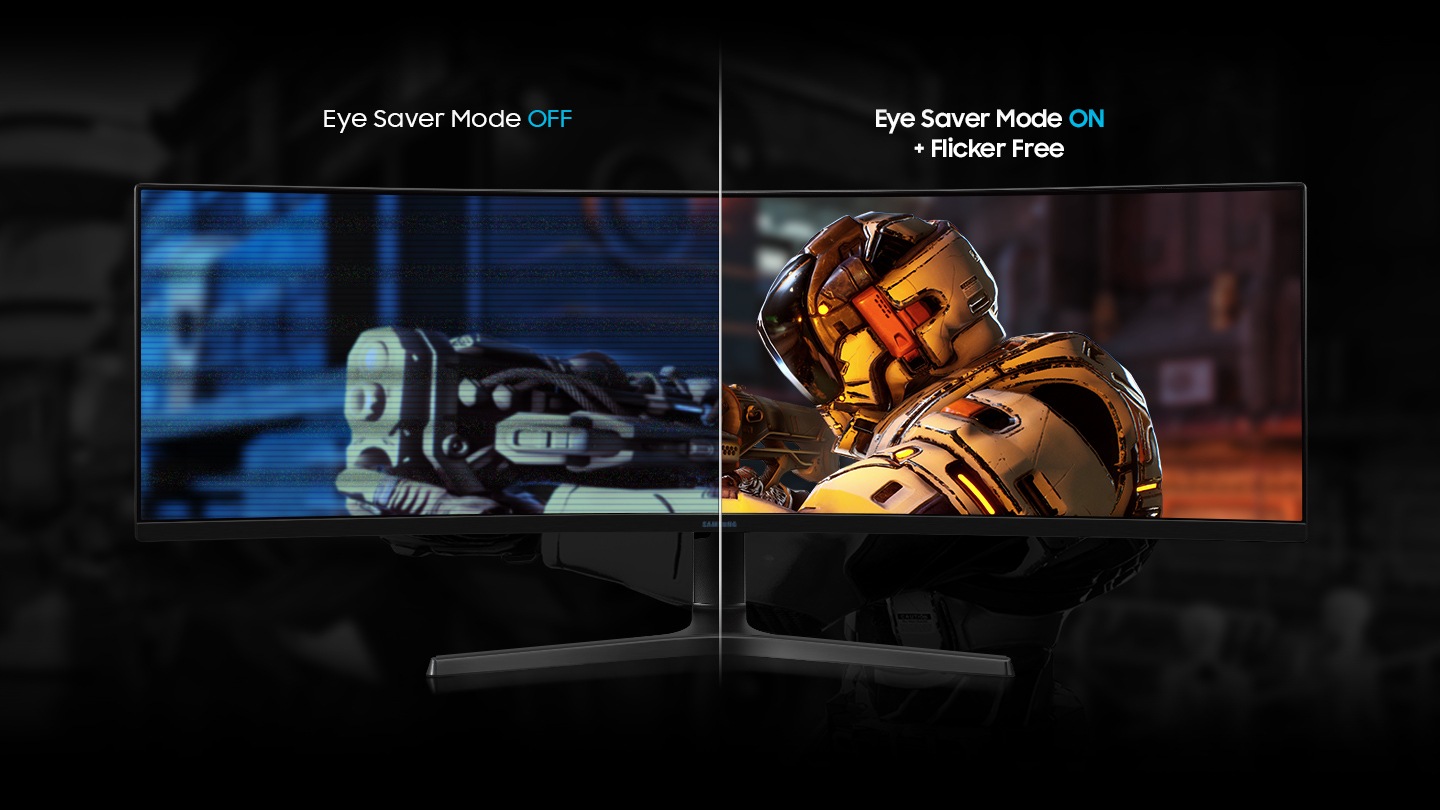 Enjoy watching
The stand that can be rotated / tilted and adjusted in height gives you all the flexibility you need to adjust the screen and bring maximum comfort. The VESA standard installation of the panel allows you to choose a VESA compatible wall mount.
Specs
Display
Screen size (inches): 48.8
Screen size (cm): 123.9
Screen size (Class): 49
Flat / Curved: Curved
Active Display Size (HxV) (mm): 1193.472 (H) * 335.664 (V)
Screen radian: 1800R
Screen ratio: 32: 9
Panel type: VA
Brightness (typical): 600cd / m2
Peak Brightness (Typical): 1000cd / m2 cd / ㎡
Brightness (minimum): 600cd / m2
Static contrast: 3,000: 1 (Typ)
Dynamic contrast: Mega DCR
HDR (High Dynamic Range): Yes
Resolution: 5,120 x 1,440
Response time: 4 (GTG)
Viewing angle (horizontal / vertical): 178 ° (H) / 178 ° (V)
Color support: 1.07B
Color Gamut (NTSC 1976): 88% (Typ.)
Color Gamut (DCI Coverage): 0.95
sRGB coverage: 125% (Typ.)
Adobe RGB: 92% coverage (Typ.)
Picture update rate: 120Hz
Basic Functions
Samsung MagicBright: Yes
Eye protection mode: Yes
No flicker: yes
Picture-By-Picture: Yes
Quantum dot color technology: yes
Image size: Yes
USB Super Charging: Yes
Easy Setting Box: Yes
Windows certification: Windows 10
FreeSync: Yes
FreeSync 2: Yes
Off Timer Plus: Yes
Game color mode: Yes
Screen size optimizer: yes
Black balance: Yes
Low Input Lag Mode: Yes
Screen update rate optimizer: yes
Custom key: yes
Super Arena Gaming UX: Yes
Interface
DisplayPort: 2 EA
Display Port Version: 1.4
HDMI: 1 EA
HDMI Version: 2.0
Headphones: yes
USB Ports: 4
USB Hub Version: 3
Operating environment
Temperature (℃): 10 ~ 40 ℃
Humidity (%): 10 ~ 80, non-condensing
Correction
Original adjustment: Yes
Design
Color +: Dark gray blue
Stand type: HAS
HAS (adjustable height base): 120.0 ± 5.0 mm
Tilt and shake: -2.0 ° (± 2.0 °) ~ + 15.0 ° (± 2.0 °)
Rotate left and right: -15.0 ° (± 2.0 °) ~ + 15.0 ° (± 2.0 °)
Wall mount: 100.0 x 100.0
Power Supply
Power supply: AC 100 ~ 240V
Power consumption (DPMS): less than 0.5 W
Power consumption (standby mode): less than 0.3 W
Type: Internal Power
Size
Body size (with stand, width x height x depth) (mm): 1199.5 x 523.1 x 349.7 mm
Body size (without stand, width x height x depth) (mm): 1199.5 x 369.4 x 193.7 mm
Package size (W x H x D) (mm): 1327.0 x 318.0 x 497.0 mm
Weight
Fuselage with stand (kg): 14.6 kg
Body without stand (kg): 11.6 kg
Package weight (kg): 20.1 kg
Accessories
Power cord length: 1.5 m
HDMI cable: Yes
DP cable: Yes
USB 3.0 Cable: Yes